Kia Soul is a unique shape on the road. Inside, it's hip and functional at the same time. Photos by Kia
By Vince Bodiford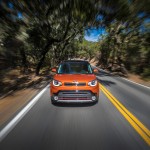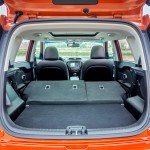 Kia brings back the hamsters to promote popular model
If you go inside major automotive manufacturing facilities – including all brands built in the North America and imports – one thing that stands out is that regardless of the car being made, Kia makes the machines being used by the people making those cars. Automation and machine systems of every kind are made by Kia for use by every manufacturer to build their cars.
Although relatively new to the American market since its introduction in 1994, Kia Motors has been in the transportation business for some time now producing Korea's first domestically made bicycle in 1951. Skillfully devised, highly functional and affordable describe the company's products. The new Kia Soul is all of that and more.
In an era of "all cars look alike" the Kia Soul by no means looks like anything on the road – except for another Kia Soul. That is important to many carbuyers who are seeking a departure from the cookie-cutter SUV and crossover choices. Kia Soul is a very unique design and character that is edgy, youthful and sporty.
The 2018 Kia Soul enters its fifth model year as a carryover with minor enhancements. Kia's iconic urban passenger vehicle offers a fun, funky and functional approach to everyday driving. From a quality standpoint, Soul has ranked #1 in the J.D Power Initial Quality Study in its category for three consecutive years.
Made famous by those forward thinking Kia hamster commercials, we were all introduced to the Soul by a brand campaign that paired it with hip-hop and pop music and an energetic vibe thus giving the Soul instantaneous "cool." The 2018 Kia Soul has a turbocharged 1.6-liter 4-cylinder engine which is spunky and fun to drive. Our test car came in the Wild Orange exterior hue, which was bright and exuded emotion, and coupled with the 18″ Alloy wheels our Kia Soul was definitely our style.
Kia Soul's handling, braking and overall maneuverability were excellent for a boxy package. As expected with a short wheelbase, the Soul is afforded the ability of fitting in tight parking spaces which is essential to city driving and commuting. While others hunted endlessly for parking spots to accommodate their vehicles I was able to quickly get in and out without a worry.
More importantly, the Soul's rectangular silhouette makes cargo issues almost non-existent. The interior was surprisingly spacious and had no problem accommodating me and passengers with plenty of leg and headroom. Not only was the vehicle comfortable and convenient, it was well-packaged in part to the optional panoramic sunroof, infotainment center (simple and intuitive) and the Technology Package which offered the pleasure of navigation with an 8″ display. SiriusXM was enjoyable as always since it was paired with a Harman Kardon premium audio system that comes with the Technology Package. Energy vibrates in tandem with speaker lights which respond to your musical vibes or can be set as mood lighting.
All these features are icing on the cake when you consider that the 2017 Soul is also equipped with Blind Spot Detection, heated front and rear seats, heated steering wheel, Traction Control, Electronic Stability Control and Vehicle Stability Management. The touchscreen display was reactive and far from sluggish as I moved seamlessly between functions at a whim. USB charging and connectivity ports are abundant for your personal tech devices. It's amazing that a value car can tender some of the same features found on premium luxury vehicles.
The 2018 Kia Soul is an enticing financial decision with a starting price of $16,100 for the base car. Nicely equipped, our test vehicle was priced at $27,620. It is also available in an all-electric plug-in EV model.
For more information, see your local Kia dealer, or visit www.Kia.com
Test Drive by Vince Bodiford, Also experienced by Kyle Ayoung, courtesy of Automotive Rhythms