Boyd Coddington
What-the-haye, let's talk about Boyd Coddington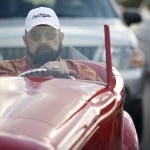 "Did you say Deuces Wild?"
By Joseph Mavilia
www.Autolove.com
Ever notice life is like a card game and like 'em or not you have to play the hand you're dealt or fold? I can hear Kenny Rogers singing, "You gotta know when to hold 'em and know when to fold 'em…" I think Boyd Coddington must have said, "I'll play these." And the farm boy was holding a pair of deuces.
In the game of life you'll also notice there are big deals and little deals and everyone is looking for a 'good' deal. Well, I was excited about meeting Boyd because he's a big deal in the auto industry. Just goes to show you what you can do with a pair of deuces if the rest of the world doesn't pair up in the hand you're playing.
When I was a young teenager my dream car was a custom '32 Ford and I suspect every young guy had a similar favorite. There is a strange perception that our manhood depends on how cool we look in that perfect car that will surely put us on Route 66 to somewhere or even nowhere. It doesn't matter. It's the ride that counts. Well, this is a story of a guy who started out nowhere in the Midwest and ended up somewhere at the end of Route 66 … Huntington Beach, California, the land of sun, sand, surf and oodles of custom rods. It would be there Boyd would realize his dream and become King of the Road of custom rods.
Yes, Boyd grew up on a farm in Idaho, but from his early days he began cutting and shaping existing steel on old cars into what he thought they should look like. It was Thomas Edison who said, "Sometimes, all you need to invent something is a good imagination and a pile of junk." Later, at the top of his game Boyd would be seen as an American Idol. You know, those people who ride out the inevitable storms of life because they are survivors. Generally, they are self-made. And we common people love to raise them up on our shoulders so we can live vicariously through their successes. At the end of the day, we're more interested in guys like Boyd Coddington because we can relate to them. We, too, can win a hand and feel the exhilaration of being a winner and finding our own pot of gold.
Photographer, Peter Linney, known around the world for his work, which is featured on magazine covers in a dozen countries, sent me some photos of a custom rod Boyd had just finished and Peter had photographed. He wanted me to get the story behind the car. The name of the car is the Whatthehaye. What? Yes, said Peter in his thick Norwegian accent. No, what's the name of the car? I retorted. What – the – haye! Ok, I thought, forget any explanation, I will have to ask Boyd about the story behind the name and perhaps I'd warm up to it as I did the photos of the car.
Anyway Whatthehaye is a work of art and as easy to fall in love with, for me, as the beauty of the image of the Greek sculpture of Venus De Milo. For the ladies it might be like looking upon the statue of David who would become king and was sculpted from another piece of stone by Michelangelo. The Whatthehaye is also a sculptured work of art and does not only have beautiful flowing lines, it is functional as well. Whatthehaye is not a restoration. It is new from the ground up and you don't have to be a car lover to appreciate such an accomplishment. Creative people can turn a hunk of meaningless stone or flat sheets of metal into classic forms.
So who is this man behind the art and the machine? A myth, a legend? – Perhaps. But unlike Michelangelo, Boyd is still alive so we can talk with him and about him to dispel the myths. I drove to his Garage in La Habra to learn more about the man. But as things turned out, I also learned as much about him from others who know him from TV, visiting his showroom or being a neighbor. I met those people a week following my meeting with Boyd. I was attending my nephews wedding aboard a boat in Newport Harbor… a big boat. The setting was private, elegant and peopled by movers and shakers. You always find people like that on a road less traveled. It was just the setting where you'd expect the name Boyd Coddington would be known.
Part II
I hadn't seen Marty and Sharon in a decade but as we got to talking about old times, I found they now live in the 'Heights' above La Habra. After a few connections and coincidences Marty told me about the house he built there … a big house. One day while he was out jogging, this guy, Boyd Coddington, was driving by and stopped Marty just as he rounded the final turn to his house. "Who owns this house", Boyd asked. Looking more like the gardener than a prosperous businessman, Marty replied, "I do!" Later the men and their wives got together and discussed the possibilities of the Coddington's buying the home, even though it was not for sale. Money was no object, but in the end the answer was still no. Some things not even money will buy. Personalities enter the play like a poker face in a smoke filled room. Obviously there wasn't a meeting of the minds and it must have been a disappointing rejection.
Boyd was also disappointed with the recent loss of his chief designer Chip Foose and that required a lot of adjustment. But Boyd says the move was ok and he talks with Chip often. A look around the boat on this beautiful sunny California day, somehow contradicts such outcomes. The bet doesn't always matter. In both cases, the answer was… I'll see you and raise. The stakes are not always about money.
Boyd seemed distant and aloof when we met and I concluded that he's just shy. But he hosts a TV show so how can that be, you say. Well, I'm pretty outgoing but my knees knock when I get in front of an audience. Anyway, it was our first meeting and that can make such celebrities, appear removed. People who are successful are by any measure bizzzzy bizzzzy people. They have demands placed on them 24/7. And that, in part, explains why I felt like I was an irritation to his busy day. But for all the demands, Boyd was outwardly calm. Or maybe he was about to fall asleep. I don't usually have that effect on people. But then his cell phone would ring and wake him up. "Now where were we?"
Like so many of us, the cell phone is our constant companion and our umbilical cord to the world anywhere, anytime. Boyd spends even more time on his cell than most because the world is his office. There is no question that I was more excited about meeting this "legend" in the custom rod world than he was in meeting me. It was I who wanted to know more about him and he did share a little of his life and feelings about family, business and success, all of which he says require a lot of hard work.
True enough. Hard work matters a lot, which brings to mind the saying that "Genius is 1% inspiration and 99% perspiration." – Thomas A. Edison. I suspect most of us want to believe we too have worked hard for what we've accomplished, even if we fell into it or married it. But Boyd's beginnings were indeed humble. The farm was small, as farms go, at 40-acres. It was primarily a dairy farm but also produced some of those famous Idaho potatoes. What kind of man was your dad, I asked? He didn't hesitate or blink. "Dad was a great guy, who worked hard from morning to dark milking cows and all the many other things you must do on a small farm." His dad's heritage is Danish and Welsh and his mom is English. Both were born in Idaho.
Boyd has good memories of his youth. He recalled his first car for me. "I traded a shotgun for a 1934 Chevrolet Pickup Truck, but Dad made me give it back." He was 20 years old when he left the farm and traveled to California. Why California? I asked. "After I finished high school and a Trade Tech, I figured California was the place for custom rods." Armed with an extraordinary work ethic he hit the road. He didn't pass Go, didn't collect $200 and didn't find any rods when he got there either. He was greatly disappointed.
Part III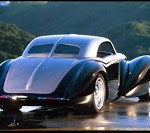 He spent the mid 1960s through the mid 1970s working as a machinist at Disneyland. That's when he began building rods, in his garage in his spare time, for himself and to sell. The machinist training was perfect for the opportunities that would present themselves down the road. I didn't sense there were any regrets about the move to California. After his dad died, he brought his mom out to live in California. He is a family man and has five boys age 22 to 38.
The ride is never smooth all the time and Boyd says he has experienced some rough spots along the way. He says, "I wonder if perhaps I trusted too many people at the same time, which got me into trouble." But he has overcome the troubles and the disappointments and has earned a special place in the industry. I believe he earned that place because, as he says, "Cars are my life, and I go to a lot of car shows." He simply has a passion for being around automobiles, even if he seldom turns a wrench any more.
The Boyd Coddington Garage is an immaculate shop in La Habra. I tried to stay out of the way of the "shoot" going on for the weekly Discovery Channel program that Boyd hosts Friday's at 10PM in the Los Angeles market. The shop employ's 20 people and another 55 people work in the wheel division. The operation is squeaky clean and first class. So what does it cost to build your own, "One-of-a-Kind" custom rod? Boyd didn't bat an eye. "The average is $175,000, the high would be about $500,000 and the low at about $75,000."
Celebrity has opened up other opportunities for Boyd, like a Boyd Coddington label on a clothing line and the TV show. So, you say, what's in a name? A good name is in great demand and everyone wants a little angel dust to fall on his or her parade so they try to get close. That good name also speaks of credibility and a proven track record. And because people have a fascination with "Designer Names" they look for products with distinctive name logos of almost anything from shirts to underwear and even Hogs and Rods and Fine Automobiles.
WHATTHEHAYE is just one of the nearly 300 Custom Rods Boyd has built over the past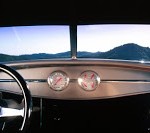 30 years. He created this particular work of art for Scotty Gray in Texas. Gray has a stable of about 20 cars, four of which were built by Boyd Coddington including the Whatthehaye. The design is inspired by the French-built 1936 Delahaye. The name mimics the original car's name and was crafted by Boyd's son Chris, the youngest of the five. Chris and the next youngest son Greg, work in the shop.
Whatthehaye took just about a year, and was finished in January of 2004 with a price tag of $400,000. The process included fabrication of the chassis using Art Morrison frame rails with an independent front suspension and a Boyd Coddington Pro Ride independent rear suspension. Also bolted on were Boyd Coddington disc brakes and Boyd Coddington coil-over shocks. Once completed the chassis was sent to Marcel's (Marcel Delay) to hand-fabricate the body using sheets of steel; the removable hard top and deck lid were shaped using aluminum. Once Marcel finished shaping the body it was delivered back to Boyd Coddington's Garage where it was pre-assembled, readying it for a DuPont silver and black paint scheme. Power is supplied by a Dodge Viper V-10, backed by a six-speed gearbox. A set of 18-inch, one-off Boyd Coddington billet wheels were designed for the car using Goodyear tires.
After final assembly the Whatthehaye was shipped to Gabe's (Gabe Lopez) for upholstery. The theme of simple elegance was carried throughout the car's interior, with black leather on the seats and door panels, and black carpet for the floor. Boyd Coddington gauges installed in the steel dash monitor the V-10. To follow the theme of a strikingly clean design, the interior features anodized black steering wheel, shifter handle and foot pedals. This beautiful automobile made its debut at the 2004 Barrett-Jackson Auction Gala in Scottsdale, Arizona to an awe-struck crowd.
The future? Boyd says, "I've been toying with the idea of franchising the tire, wheel and accessory business in shops across the country." Keep your eye peeled for the emergence of that expansion.
Meanwhile as Boyd rakes in his chips, from a hand well played, and lights a cigar you can hear the rest of the guys at the table saying…
… Deal!