Overview:

This is the 2016 Chrysler 200 Limited Platinum. With such cars on the market it seems nearly impossible for anyone NOT to be availing themselves of great transportation.
Cars have captured the imagination of American youth from the turn of the 20th century as much or more than the 21st Century technology has. The major difference is that cars get people out and about while the computer age of smart phones etc. relegate people to a "Virtual Reality". Sorry, folks, I appreciate Google and the research ability it affords but if it and other computer thing-a-ma-bobs replaces the exhilaration of getting out into nature and the adventures of exploring the real world it is a diversion I can do without.
Bottom line – Cyber world is a pretend existence but getting into your trusted car or truck and venturing outside your front door will breathe life into you. The kids of today are mesmerized by the make-believe and thus are missing so much that the world has to offer, it saddens me. To my grandkids I say, lose the iPods, iPads and all the gaming and go out and play while you still can learn something of value. You have plenty of time to vegetate on the couch watching football or some other useless pastime. Trust me on this one. You won't be sorry.
General Information: It is assembled in Sterling Heights, Michigan, USA. Parts – US/Canadian 64%, Mexico 18% Engine and Transmission – USA; Classification is Midsize cars. Cars fromChrysler: 200, 300, Pacifica & Town and Country.
Handling & Performance:
Perfectly capable. It did well on the mountainous Crest Test and sports lots of power. However, for me I would have been just as happy with the 4-cylinder. As it was, fuel economy was still very good.
Styling: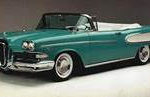 The 200 has the sleek design of today and I believe it is timeless.

This styling will not go the way of the Edsel or the Dodo Bird.
Fit and Finish:
Very good in class.
Cost:
Exceptional value.
Conveniences and comfort:
Good set of features as far as standard equipment and of course as priced. Me, I still prefer some important options like Smart Cruise Control, Crash avoidance and blind spot detection which are a few of the more important developments of recent years. Consumers drive demand for such enhancements to the driving experience and its safety. Demand these things and more will come and more cheaply as we well know.
Consumer Recommendation:
Shop your need always. If you are alone with lots of cash in the bank or under the mattress, buy a Ferrari and some gold necklaces and travel in real style. But if you're normal the Chrysler is a better option. It will carry all the kids and other liabilities you surround yourself with. But you know what, you'll have fun either way.
Recognized Competition:
Chrysler Ltd Platinum $28,000, Acura TLX $32,000, Nissan Altima  $32,000, Kia Optima Hybrid $32,000, Buick Regal $34,000, Toyota Camry $32,000, Volkswagen CC $35,000, Honda Accord $31,000.
Good News:
Affordable, attractive and comfortable transportation to reach out for adventure down the highway.
Bad News:
I can't justify a Ferrari.
Standard Equipment:
3.6 liter V6 engine, 9-speed automatice trans, stability control, traction control, 4-wheel ABS power disc brakes, electric park brake, power steering, keyless entry and go, security alarm, cruise control, ParkView rear back up camera, LATCH reard Child seat anchor system, front, side and side curtain front and rear airbags, driver & front passenger knee airbags, air conditioning, Uconnect 5.0,  6-speakers, integrated voice command with Bluetooth, audio jack input for mobile devices, remote USB port, steering wheel mounted controls, power windows and manual 6-way driver and front passenger seats, tire pressure monitor, compass gauge, tilt and telescopic steering column, 12-volt auxillary power outlet in console.
Gas Stats:
$2.34/ Gal avg. August 12, 2016
for more information,
19 City 32 Highway MPG
Pricing:
MSRP $24,490.