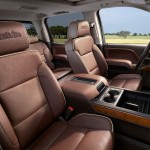 2018 Chevy pickup celebrates 100 years of heritage, with special badges and programs. Popular item is vintage bowtie logo for pickup. Inside, cab is big, quiet and comfortable. First truck was introduced in 1918.
Photos by CHEVROLET
Chevy celebrates truck centennial with special edition
2018 marks the 100th anniversary of the first production Chevrolet truck. A century and more than 85 million trucks later, Chevrolet has become one of the most recognizable brands in the world. To celebrate the Chevy Trucks Centennial, the brand is honoring the owners who have made Chevy Trucks a part of their lives for the past century with a celebration featuring two new Special Edition trucks, the national rollout of the Truck Legends customer loyalty program and more.
To see how far the trucks have come over the years, this week road-tested a new Silverado High Country 4WD crew-cab pickup. It is the best-driving pickup from Chevy that I've ever tested. With double-cab pricing that starts at $28,085 and MPG estimates ranging from 18-mpg to 24-mpg, it gets high marks for towing and hauling. This truck even offers WiFi and GPS navigation – features that were the stuff of science fiction when the first Chevy trucks hit the road 100 years ago.
The 1918 Chevrolet One-Ton truck was powered by a four-cylinder engine rated at 36 horsepower. Its top speed was 25 mph. Today, there are three engine choices and a range of models, cab sizes, and bed choices.
"The Chevy Trucks Centennial is a huge milestone for us, and is equally important to our customers," said Sandor Piszar, Chevrolet Trucks Advertising and Marketing director. "That's why we are celebrating 100 years of Chevy Trucks. It's important that we share this celebration with our loyal customers who have helped us achieve this accomplishment."
From the beginning, Chevrolet Trucks has focused on making the best possible vehicle to meet every customer's needs. After building specialized trucks to serve its factory, Chevrolet introduced its first trucks to customers in 1918. They included the half-ton Light Delivery and the 1918 One-Ton truck. Both were offered with an open chassis behind the windshield that allowed customers to choose between purchasing or building a specialized body for their vocation.
A century later, customer choice continues to drive Chevy Trucks. Chevrolet is still the only manufacturer to offer customers a three-truck portfolio — featuring the Colorado, Silverado and Silverado HD — and a full line of special editions, giving customers more options for the perfect truck to fit their needs and personal style.
The latest additions to the Chevrolet Trucks portfolio of special editions, the 2018 Silverado and Colorado Centennial Editions feature design elements inspired by Chevy Trucks throughout history, including a distinctive Centennial Blue paint color and exclusive heritage bowtie emblems and 100 year badges inspired by colors and design cues found on early Chevrolet Trucks.
"The Silverado and Colorado Centennial Editions are a result of collaboration between Chevrolet Design, Engineering and Marketing, to commemorate the history of Chevy Trucks," said Rich Scheer, Chevrolet Trucks director of Exterior Design. "Both vehicles offer our most enthusiastic fans a way to demonstrate their love for Chevy Trucks and celebrate the Chevy Trucks Centennial with us."
For more information, see your local Chevrolet dealer or visit Chevrolet.com
Test Drive by Vince Bodiford