Overview:
This is the 2016 Mazda CX-9 Signature AWD SUV, and Wow, it is packed with great features and the price reflects all the cool stuff to make your driving a great experience.
I've been test driving Mazda for a very long time. I don't have any review evidence before 2007 but you get the point. . . which, of course, is that unlike the Pierce Arrow or the Hudson Hornet or even more recently the Oldsmobile and Pontiac, Mazda is still around. Granted the Olds was produced for 107 years. Mazda on the other hand was a succeeding name (1984) of the original attempt of Toyo Kogyo in Hiroshima, Japan to produce a car he referred to as an autorickshaw. The year was 1931 so 85 years of experience. Not too shabby and it is represented as the Mazda CX-9 in my carport.
Okay so I haven't been driving them since 1931 but my first experience was the MX-5 Miata and I've loved the little buggers ever since.
So perhaps I have a little bias, not so unlike my associate who thinks Ford is the best car ever. Not so Tom, but everyone has their pet favorites.
Another reason I have had a soft spot in my heart for Mazda is because I've been in the city where Toyo first built them. I was at Ground Zero in 1959 – thus only 14 years after the first Atomic Bomb (and hopefully the last being the one dropped in Nagasaki days later). Do you think all the radiation was gone by then? It would explain a lot if it weren't. Anyway, it was a touching scene and experience for me.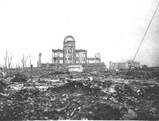 Ground Zero then.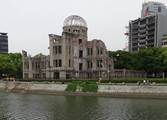 and now.
General Information: It is assembled in Hiroshima, Japan; Parts – US/Canadian 0%, Japan 90% Engine and transmission – Japan; Classification is Standard SUV. Cars from Mazda: 500, 500c, 500e, 500L and 500 X.
Handling & Performance:
For a large vehicle it is easy to handle and it is Turbo F A S T and much to my liking.
Styling:
Styling of this SUV is rather usual and expected and that's a good thing.
Fit and Finish:
Excellent assembly work.
Cost:
Well priced all things considered.
Conveniences and comfort:
Most all features add to the convenience and comfort of your driving experience. A minor inconvenience is the Adaptive (smart) cruise control. It is needlessly difficult to turn on and off in its initial use, but more important is that it is not as sophisticated as some I have tested. It does not stop and start without intervention. For me this is one of the most helpful features in busy crowded freeway travel in noticeably relieving stress.
Consumer Recommendations:
If fuel economy is a touchy point for you the average mileage ranges from 17-25 and Mazda tops the list at 25. If seating is the hot point Buick Enclave tops the list at 8 in a range of 5-8. Mazda seats 7 and deserves a look see if a large SUV is your target segment. Happy hunting and Merry Christmas.
Recognized Competition:
Mazda CX-9 $45,000, Dodge Durango $45,000, Chevrolet Traverse $45,000, Lincoln MKX $45,000, Jeep Grand Cherokee $44,000, Cadillac SRX $47,000, GMC Acadia $44,000, Buick Enclave $47,000, Toyota Highlander $46,000.
Good News:
Huge array of great features minus the kitchen sink, priced right, smooth and comfy ride, fast as snot on a cold day.
Bad News:
I found the electronic controls more difficult than need be. Others do it better. It will take more getting used to than I like and lastly smart cruise is not so smart.
Standard Equipment:
2.5 liter 4-cylinder 227 HP Turbo engine, All Wheel Drive, 6-speed sport mode auto transmission, 20" alloy wheels, rain sensing intermittent wipers, rear fixed intermittent wiper, heated power mirrors with turn signals, rear privacy glass, power moon roof, aluminum roof rails, power rear lift gate, 7-passenger seating, tilt and telescopic leather steering wheel with audio and cruise controls, power windows and locks, auto dim rearview mirror, Nappa leather trimmed seats, 8-way power driver's seat with lumbar support and memory 2-positions,heated front seats, 4-way power passenger seat, Aluminum and rosewood interior trim, 2nd row window sunshades, LATCH child safety seat anchors, anti-theft engine immobilizer, tire pressure monitor, k4-wheel ABS disc brakes with Brake Force distribution and brake assist, Dynamic stability control, traction control and roll stability control, electric power assisted steering, LED headlights with auto on/off, adaptive front lighting system, LED fog and daytime running lights LED combination taillights, rear roof spoiler, radar (smart) cruise control, electronic parking brake, Keyless entry system with push button start / stop, 3-zone climate control, Bose AM/FM/HD/Satellite 12 speaker system, Bluetooth/ Auxiliary Jack/ USB inputs (4), 8" color display with rear camera, Navigation, trailer stability assist, front, side airbags, 3-row side curtain airbags, blind spot monitor, front and rear stabilizer bars, rear cross traffic alert, rear backup sensors, lane departure warning, lane keep assist, smart brake support with smart city brake support.
Gas Stats:
$2.59/ Gal avg. December 18, 2016
www.fueleconomy.gov
for more information.
21 City and 27 Highway MPG
Pricing:
MSRP $44,915 as equipped.