Overview:

This is the 2016 Kia Sedona SXL. The Minivan is still a viable passenger vehicle. It has stood the test of time and if you want to carry 7-8 passengers it is much more convenient than its alternate the SUV or a typical passenger car. They are easier to get in and out because the sit lower and friendlier to "little people". . . and easier for mom and dad to get little ones seated. That holds true for seniors like grandparents who appreciate not having to have a ladder to get in many SUVs.
General Information: It is assembled in USA; Parts – US/Canadian 2%, Foreign 93%; Engine and transmission – Korea; Classification is Minivans. Cars from Kia: Cadenza, Forte, Forte Koup, Forte 5, K900, Optima, Rio, Rio 5-door, Sedona, Sorento, Soul, Soul EV and Sportage.
Handling & Performance:
The Minivan is considered or termed a crossover between the SUV and a passenger car. It has been characterized this way:
A crossover, also known as a crossover utility vehicle (CUV), is a vehicle built on a car platform and combining, in highly variable degrees, features of a sport utility vehicle (SUV) with features from a passenger vehicle, especially those of a station wagon or hatchback.
Therefore it handles much like a passenger car than an SUV.
Styling:
Obviously, or not so obvious (to younger drivers) is the fact that the Minivan evolved from the Work Van of the 1960s and its evolution to today's Minivan had more to do with consumers taking a work van and modifying it to function as a family vacation vehicle. History has however a different story to tell.
In reality the minivan was invented in 1935 by a man named William Stout. It was called the Scarab.
The concept behind it was a theme of a truly "mobile office" — a place where one could be driven and work at the same time with amenities on par with airliners of the time. However, only nine examples of the Scarab were ever produced, as it was considered to be too radical and "modern" for its time. After this, minivans took a long hiatus, with the next model appearing in 1950 in the form of the very popular Volkswagen Type 2, or micro-bus.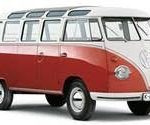 But here in the US it was the adapted work van that is where the craze really began in earnest.
Fit and Finish:
The Minivan has come a long way from humble beginnings and is well presented. Nice.
Cost:
If you need to carry a lot of folks the price isn't as important as the comfort of the Minivan for all aboard.
Conveniences and comfort:
All the comforts of home. I like having the power lift gate. And if you don't mind another $2,800 for options including lane departure warning system, forward collision warning system, and my favorite – Smart Cruise this can be a perfect family safe vehicle.
Consumer Recommendations:
Of course if you don't need 8 place seating this is likely not for you, but if that's what you're looking for the Sedona cost as equipped can surely be justified. One of my favorites.
Recognized Competition:
Kia Sedona $37,000, Honda Odyssey $37,000, Chrysler Town & Country $38,000, Dodge Grand Caravan $32,000.
Good News:
Important safety features, powerful, comfortable ride for 8 passengers.
Bad News:
Some budgets would be strained at $40,000.
Standard Equipment:
3.3 liter V6 engine, 6 speed automatic transmission, front, side and side curtain airbags, LATCH system, power ABS braking system, traction control, stability control, tire pressure monitor, climate control, Infinity surround sound audio, Sirius XM satellite radio, Navigation and back up camera, leather seating, memory driver seat position, heated and ventilated front seats, second row lounge seating, push button start with smart key, leather wrapped wood grain style heated  steering wheel, center console mounted 115 V power inverter, blind spot detection system, auto dimming rear view mirror, front and rear parking assist, fog lights, dual sunroofs, heated mirrors with turn signals, hands free power lift gate.
Gas Stats:
$2.65 Gal avg. February 5, 2016
for more information.
17 City and 22 Highway MPG
Pricing:
MSRP $39,900.