Overview:

This is the 2016 Jeep Wrangler Unlimited 4X4 75th Edition. On the Dashboard handhold passenger side is proudly stamped 1941 to recognize the heritage. In fact, they should refer to Jeep as the Heritage Series. And no question about it, Jeep has been blazing trails ever since WWII.
Although it is classed as a Small SUV the first words out of Ilona's mouth was "this is a big car". She says that, most likely, because it sits high as an off road vehicle must. So like big trucks it sets as high as most trucks and SUV's. It also sports big tires for the purpose intended.
I tested the Automatic transmission instead of the 6-speed manual that comes standard on the 75thEdition. Automatic 5-speed transmission adds $1,350 to the price and for me that would be the way to go. It also has a soft top that gives it more flexibility than the hard top which is a costly option. If you like the open air out in the wild it is easier to put down than removing that heavy hard top. Tradeoffs to be sure. The major negative to the soft top is the more difficult access to loading gear into the cargo area.
General Information: It is assembled in Toledo, Ohio, USA. Parts – US/Canadian 73%, Engine and Transmission – USA; Classification is Small SUV. Cars from Jeep: Cherokee, Compass, Grand Cherokee, Patriot, Renegade & Wrangler.
Handling & Performance: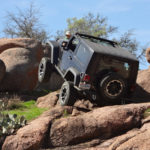 Just as you'd expect from an off road master, it is a little rougher riding on the highway but not much different around town as any other small truck. Fuel economy is not all that great but the V6 is pretty powerful and I like that. Overall it is acceptable on highway because on a long ride I found it to be very comfortable aside from the added noise because of the soft top and the knobby tires.
If you have never been on a Jeep Jamboree somewhere in the USA and you are an outdoors lover and you own a Jeep you should look into it. What a ball and the education on driving off road is fantastic and the like-minded people are fun too. That is where you really get the performance off road. Difficulty of the venue goes from 1 to 10 being most challenging. That would be like the Rubicon Trail in Northern California. Awesome. https://jeepjamboreeusa.com/tripsregister/

Styling:
Jeep has remained so consistent for 75 years that the styling is simply "Jeep". Everyone knows what that means. They wrote the book for off road look and feel and image.
Fit and Finish:
Fit and finish is as good as it needs to be for a rough and tumble outdoor capable trail blazer. Naturally it gets more refined over the years, but people who drive these things don't want them for negotiating the speed bumps on Rodeo Drive in Beverly Hills. Jeeps are as tough and ready to rumble and as adventuresome as those who drive them.
Cost:
If you will only be using a Jeep for commuting on pristine roads of the city, don't waste your money and frustrate the personality and performance of Jeep. BUT, if you are doing some serious outdoor trek-ing you'll get your money's worth.
Conveniences and comfort:
Wrangler is not loaded down with Highway gadgets like adaptive or smart cruise control or sensors to warn you of traffic around you. This Wrangler is more comfortable in the outback or woods and wilderness venues. The money is put into strong shift on the fly 4WD, heavy duty rear axle and solid front axle, fuel tank and transfer case skid plates, electronic roll mitigation and trailer sway damping. You know, practical things.
Consumer Recommendation:
If you are an RV / Motorhome advocate the Jeep is the best tow vehicle you can have, in my opinion. Ease of disconnecting the drive train is simple. Further information: One source is at  www.bleepinjeep.com
Recognized Competition:
Jeep Wrangler Unlimited $34,000, Chevrolet Traverse $40,000, Toyota 4Runner $40,000, Nissan Pathfinder $39,000, Honda Pilot $38,000, GMC Acadia $40,000, Kia Sorento $41,000.
Good News:
Amazing off road vehicle, relatively comfortable ride on road.
Bad News:
Although it has improved over the years the fuel economy is still only 20 mpg.
Standard Equipment:
3.6 literV6 engine, 5-speed automatic transmission, shift on the fly 4X4, solid front axle, heavy duty rear axle, skid plates on fuel tank and transfer case, 22.5 gal fuel tank, front airbags, stability control, 4-wheel disc brakes, traction control, electronic roll mitigation, hill start assist, trailer sway damping, sentry key theft deterrent system, security alarm, tire pressure monitor, cruise control and radio.
Gas Stats:
$2.39/ Gal avg. August 15,  2016
for more information.
16 City 20 Highway MPG
Pricing:
MSRP $33,695.