Overview:

This is the 2016 Jeep Renegade Sport 4X4.  Well, I need to admit I have been testing a lot of Jeeps lately because I'm looking to buy one and wanted to look at all Jeep options. I want a good all-around vehicle to tow behind a motorhome. I understand Jeeps are easy to tow and gives great off road capability. If you have a first-hand experience and you care to share your information, I'd be interested in your thoughts. joe@atthewheel.com
I was interested to see this Jeep Renegade is made in Italy. I have to say it brings up an industry shift over the past half century to a 'cooperative' global industry. But it is not just international responsibility.
It has been my experience, first-hand, that the goodwill developed from trade between countries is a good thing. I have visited factories in Japan, Mexico and Europe and found that mutually beneficial relationships break down barriers between people.
So the point is that I'm encouraged to see this Jeep and other cars being manufactured, in part or total, in cooperating countries around the world. This link shows those car companies that manufacture their cars in the US. It will surprise you.
https://en.wikipedia.org/wiki/List_of_automobiles_manufactured_in_the_United_States
Likewise, U.S. companies manufacture some of their brands in other parts of the world as they share the car market in today's world. They also share ownership of each other and that adds to the fact that we see more and more assembly of all car brands being done everywhere and anywhere.
General Information: It is assembled in Melfi, Italy. Parts – US/Canadian 22%, Italy 62%,Engine and Transmission – Italy; Classification is Small SUV. Cars from Jeep: Cherokee, Compass, Grand Cherokee, Patriot, Renegade & Wrangler.
Handling & Performance:
Sometimes a picture is worth a thousand words.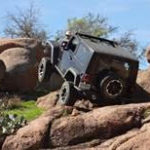 Styling:
Thankfully there has been little change in styling in the Icon that Jeep has become. And from my military days up to today it remains an image of can-do and wanna do. This is a mechanical buddy in good days and in tough times, as well, that you can count on. Yep 75 years old and counting. Nice job Jeep.
Fit and Finish:
This SUV is built for endurance so it is necessarily basic and quite frankly as good as it needs to be.
Cost:
The renegade is a good value at an MSRP of $20,000. The only way it becomes more is when you add things unnecessary for effective off road use.
Conveniences and comfort:
Yep – basic is good. Too much high tech stuff is not only unnecessary, it detracts from the practical use so likely un-wanted by serious outdoorsmen as well.
Consumer Recommendation:
If you have never been on a Jeep Jamboree somewhere on the two dozen venues in the USA and you are an outdoors lover and you own a Jeep you should look into it. If you don't own one you're missing the experience and education of a lifetime.
Jamboree's are rated according to level of difficulty of the venue. Visit the link for more –https://jeepjamboreeusa.com/tripsregister/
Recognized Competition:
Jeep Renegade $20,000, Chevrolet Trax $25,000, Nissan Juke $29,000, Honda HR-V $24,000, Mazda CX-3 $22,000.
Good News:
Affordable, good fuel economy for 4-wheel drive.
Bad News:
n/a
Standard Equipment:
1.4 liter inline 4-cylinder turbo engine, 6-speed manual transmission, 4X4, front and side airbags and front and rear side curtain airbags, driver knee airbag, LATCH child anchor system, 4-wheel ABS disc brakes, stability control, electric park brake, remote keyless entry, electronic roll mitigation, traction control, capless fuel fill, hill start assist, tire pressure monitor, front and rear 12-volt power outlet, 3.5 inch monochrome display, radio with 4-speakers, steering wheel mounted audio controls, tilt and telescopic steering column, USB hub, Manual 6-way driver seat and 4-way passenger seat, 60/40 split folding rear seat, 16" steel wheels, rear wiper.
Gas Stats:
$2.69/ Gal avg. September 4, 2016
for more information.
24 City 31 Highway MPG
Pricing:
MSRP $19,995.