Overview:
This week we're looking at the 2015 Audi A5 Coupe 2.0T quattro manual full time all wheel drive. I don't like to lead with a negative but we might as well get it out of the way. Low profile rims and tires have been a pet peeve of mine and lots of my journalist colleagues agree. As for me I don't own this car but it breaks my heart to damage mine or anyone else's pride and joy. The problem is that it is nearly impossible NOT to scratch the rims when parallel parking. Many cars today and all in years past had tires that stuck out beyond the rims and thus you'd blacken the curb with rubber but no other damage. As a side note older readers will say "not true because many cars, back in the day, had white wall tires and you'd bugger up the white and be hard pressed to get the black off the white".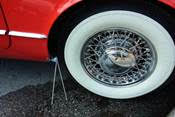 Ok, you got me there but some other younger people can't remember cars with white wall tires but they do know what I mean about damaging expensive aluminum wheels. And most of us have faith that car makers can surely answer this complaint. Publisher and colleague of mine had a great idea. Digital Curb Feelers much like laser sensors that beep at you for blind spot detection or back up alerts. Such sensors mounted on the side of the car front and rear could sound a warning when you are too close to the curb. Simple. Problem solved.
General Information: Parts: US/Canadian 1%, Germany 67%; Hungary 15%; Engine – Hungary and transmission – Germany. It is Assembled in – Ingolstadt, Germany. Class – Sub-compact
Cars from Audi – A3, A4, A5, A6, A8, allroad, Q3, Q5, Q7, R8, RS, S3, S4, S5, S6, S8, SQ5, TT
Handling & Performance:
Outstanding. It's like riding on rails and that speaks volumes. AWD full time makes this car hug the roads in a very special way. The turbocharger gives much appreciated acceleration because when you need it the power is there for passing and entering higher speed highways.
Styling:
All of the competitors are beautiful automobiles and to me it's much like viewing the Sports Illustrated magazine bathing suit edition – nearly impossible to choose the best looking.
Fit and Finish:
No argument here. It doesn't get much better.
Cost:
Expensive class of cars. But you get what you pay for and if you're looking for performance the cost of admission may be cheap.
Conveniences and comfort:
The complement of features is good but with upgrade and added options that are offered the price can go up quickly to $50,000.
Consumer Recommendations:
If this is your price range all of the competition are lovely cars. But if you are conscious of repair costs the purchase price of any car won't be the end of the story. I had a friend who bought a big boat at a tax sale because it was perceived as cheap. He asked my opinion and I said, "You can't afford that boat. It will cost at least $15,000 a year in dock fees and normal maintenance. Then if you go to Catalina for the weekend the fuel will set you back $800 alone."  The cost to buy may only be the tip of the iceberg in that boat and with luxury expensive badged cars. Friend Richard always says, "Think my boy, think!" Good advice.
Recognized Competition:
Audi A5 $40,000, BMW 2 Series $34,000, Cadillac ATS $40,000, Infiniti S60 $43,000, BMW 4 Series $43,000, Lexus RC $45,000, Audi TT $40,000, Mercedes Benz C-Class $46,000.
Good News:
Spectacular handling and performance that is flat fun to drive.
Bad News:
Cost is a factor.
Standard Equipment:
2.0 liter inline 4 cylinder 220 horsepower turbocharged engine, 6-speed manual transmission, 18" wheels, stability control, speed sensitive power steering, tire pressure monitor, power sunroof, xenon headlights, heated power mirrors, 10-way power front seats with 4-way driver lumbar adjustment, leather seating, 60/40 split folding rear seat, climate control, AM/FM/SAT radio with SD card reader, Sirius satellite with 3-months subscription, leather wrapped multifunction steering wheel, Bluetooth prepared, front seat mounted side and curtain airbags and driver knee airbag, anti-theft alarm and LATCH child safety system.
Gas Stats:
$3.39/ Gal avg. March 12, 2015
for more information.
22 City and 32 Highway MPG
Pricing:
MSRP $40,000